Click here to learn how I sand and refinish wood floors.
I recently had the pleasure of refinishing a bamboo floor. I have to say I was a little apprehensive as I hadn't sanded bamboo in several years. In fact, I know I have sanded bamboo before, but I really can't remember it.
I couldn't remember if there were any special considerations I needed to take into account or if there were any problems we experienced last time. The first thing that popped to mind is that little fact that everyone tells you; bamboo is not a wood, it's a grass! I don't sand grass floors everyday, I sand wooden floors.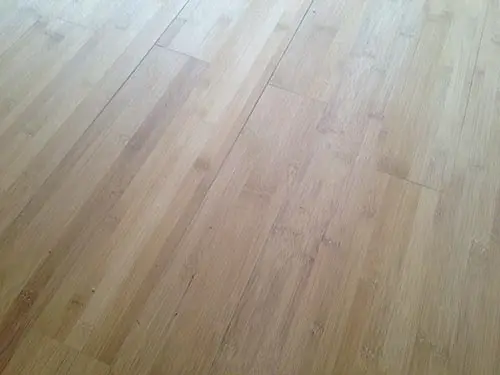 Nevertheless, since no traumatic memories sprang to mind, I just decided to treat it as any other floor. What I found was that despite being a fairly tough material, the belts and discs were lasting very well. I have to say it was a pleasure to sand because of the ease with which the previous finish came off, dents came out and lumps and bumps where smoothed over.
I completed most of the sanding on the first day, leaving a little sanding and finishing to do the next day. Over night I decided to have a little look on Google about what other people were saying about refinishing bamboo flooring. As it turns out, bamboo flooring is often fortified with formaldehyde. Formaldehyde, as far as I know, is just a preservative.  I do know that solvent lacquers used to contain formaldehyde and that when I used to use them they would make my eyes, throat and nose sting. I did experience this, if only briefly when I was edging in the hallway. I assumed it was just the lacquer on the surface.
When I returned the next day I told the customer about the formaldehyde and that I would keep on top of the dust extraction as much as possible. With that said, it was enjoyable to sand and it finished very nicely. Once the lacquer had gone down it gave the floor a warm Oak kind of color.
If you have bamboo floors and are thinking of refinishing them, I would seriously consider either hiring a professional, or renting professional floor sanding machines. The floor sanding machines that you hire from your average tool hire place will literally fill the room with plumes of dust. Also make sure you use a carbon filter mask. You really are just taking a risk with the average dust mask.
Formaldehyde is now banned in europe, i'm not sure of its status in America, but it wouldn't suprise me if it was going the same way there.
If you found this page helpful then please share it on your favourite social network or link to this page from your blog! As always, comments and questions are more than welcome.